Untapping "the role of biogeochemical activities in fossilisation" – PhD
3 year PhD project available at Curtin University, Perth, WA, Australia
With  Prof. Kliti Grice ARC Laureate Fellow
Collaboration with Dr Navdeep Dhami and A/Prof. Marco Coolen (Curtin University)
SEEKING NATIONAL OR INTERNATIONAL APPLICANTS
Untapping "the role of biogeochemical activities in fossilisation"
This project aims to unlock an untapped record of our planet's past, by understanding the biogeochemical cycles and processes (e.g. methane oxidation, denitrification & sulfate reduction), involved in the formation of concretions leading to exceptional preservation of fossils. A range of microbial metabolic activities, biofilms, extrapolymeric substances, physicochemical environments have been thought to play a significant role in fossilisation and preservation of soft tissues in mineral concretions. The proposed project aims to significantly advance current perceptions and knowledge, by accessing the rarer organic record of fossilised tissues (insects, leaves) in concretions formed by various biogeochemical processes and microbial pathways leading to entombment and exceptional preservation of extant materials. To achieve this goal, a range of modern concretions will be created and investigated to evaluate the biogeochemical pathways leading to cementations and entrustment of fossils (stable isotopes) under laboratory conditions.
State-of the analytical infrastructure is available in WA-OIGC (Instrumentation – Western Australian Organic & Isotope Chemistry | Curtin University, Perth, Australia) including TOFSIMS Focused Ion Beam Facility, John de Laeter Centre | Curtin University, Perth, Western Australia in JDLC.
The project is supported by an Australian Research Council Discovery GRANT.
Ca. Stipend $27,000 per annum
Suitable applicant must have a first class Hons degree, Master's degree or equivalent in Biology, Microbiology, or Chemistry, Geology or Palaeontology or related fields.
The applicant will be supervised by a team of geochemists/geologists, palynologists, entomologists, analytical chemists and microbiologists.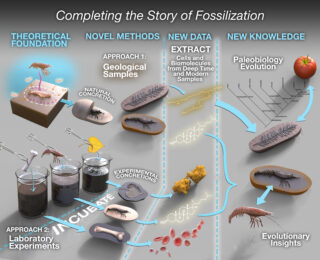 Please send full CV and two referee names to Prof. Kliti Grice (k.grice@curtin.edu.au)