WA Earth Connections
Our Earth, our future needs to be healthy and sustainable for human-kind and it requires the next generation of diverse scientists with multidisciplinary skills to understand, protect and save it by 2050 –meeting the United Nations Sustainable Development Goals! Earth's past, present and future requires a diverse science culture.

Come along to the WA Earth Connections event for 2023 hosted by Curtin University, in collaboration with Australian Earth Sciences Convention 2023. At this free event, teachers and their students will meet inspiring researchers, hear about fascinating career pathways and learn first hand the impact earth and environmental science has on the world around us.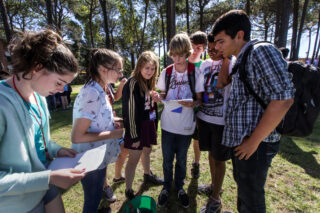 The 2024 event will be announced soon. Current details for the event include:
Date: Mid-late 2024
Time: 9:30am – 2:30pm
Cost: Free
Audience: Year 9, 10, 11 and 12 students
Number of attendees per school: *Maximum of 15 (students and teachers included)
Click the button below to express your interest in the event and get updates when registrations open:
Thanks to WAOIGC, Australian Earth Sciences Convention, Geoscience Australia, CORE Learning Foundation, Curtin University and University of Western Australia for supporting the 2023 event.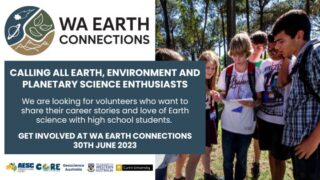 Do you want to inspire our next generation of Earth, environment, and planetary scientists?
We are also looking for experts in Earth, environment and planetary sciences who want to get involved in this event and have meaningful conversations with students to inspire them to engage with these topics.
Express your interest in volunteering for the 2024 event below.